We announced the collaboration work with the French designer.
We participated in "Kyoto Contemporary project" and announced the collaboration work in Paris from January, 2017.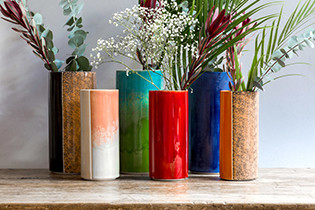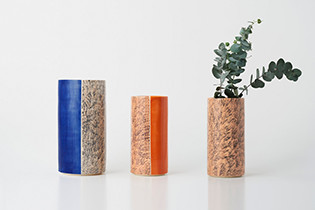 The flower vases created in collaboration with AC/AL Studio is a true work of art, like a canvas that fully showcases Joubu Gama's great point of pride: colors. The reversible feature of the vase allows the flowers to be presented in multiple ways and also represents the ceramist's know-how on various types of finishes. The color scheme, rigorously selected by designers from among more than 100 glazes newly developed, is ideal for giving glamorous color accents to modren interior spaces.
We give expression to our unique colors by researching glazes and experimenting with techniques, while persisting to create only the finest quality. We are now collaborating with designers and artists from other fields to combine new ideas with the ceramic techniques we have so carefully cultivated.
The flower vase, Tomo, meaning "together in harmony,"
came from our first collaboration with designers in Paris.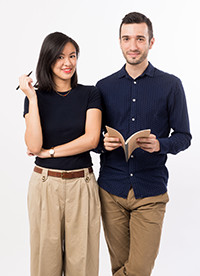 AC/AL Studio – Amandine Chhor & Aissa Logerot
Graduated from ENSCI – Les Ateliers, Amandine Chhor and Aissa Logerot started to build their own careers by working for prestigious architecture and design agencies like Hermès and Ligne Roset. From 2009 to 2012, they collaborated on contemporary designs using sustainable craft techniques in developing countries like Cambodia, Morocco and Cameroun, before establishing their own design studio in Paris in 2013.
Passionate for materials, crafts and industrial manufacturing processes, they try to valorize usefulness and simplicity through their projects that bridges various scales from object to space. Their precise, elegant and clean lines give their design its identity.